How to convert from PDF to Word on MAC
A PDF file is a type of file that is only viewable and it cannot be edited. The PDF is ideal where the final version of the document does not need any changes. However, if you need to convert pdf to editable word document for any reason, Microsoft Word 2013 or 2016 versions allows you to convert pdf to editable word document easily in windows and MAC.




Follow the procedure to know

convert PDF to editable word

on mac and windows version of Microsoft office.

1. Click on File tab, click open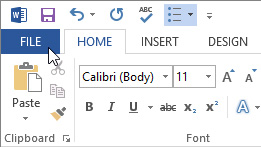 .
2. Open the PDF file you wish to edit
How to convert and edit PDF Word?
3. A dialog box will appear stating Word will now
convert PDF to editable word
etc. to confirming whether you want to convert the PDF file into a Word document. Click OK.

4. Some time another dialog box may appear if the PDF file has content that Word is unable to convert, Just click OK
5. After clicking OK, Microsoft word will convert PDF to editable word document

Convert pdf to editable word offline
Now you can edit and save the PDF document
6. When you are done making changes in editable PDF,
a. Click Save As,
b. Give File Name
c. In Save as type, you can select Word Document or PDF
7. If you don't need to
edit PDF
in word then save as PDF or if you want the Word File, select Word Document in Save as type drop-down menu. This is the best way to edit pdf in Word.
This was the simplest procedure to
convert from PDF to Word on MAC
offline using Microsoft office word 2013 or 2016. If you have any problem on how to convert a PDF to Word document for editing please drop down your comment below